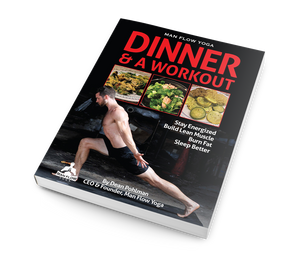 Dinner & A Workout is the Man Flow Yoga Cookbook, an ebook filled with healthy recipes alongside workouts that you can do while you cook, in order to help you save time and get done the things you need to get done in less time.
Here is a sampling of some of the mouth-watering recipes found in Dinner & A Workout:
- Eggs with Spinach, Brussels Sprouts, and Avocado
- Eggs with Sweet Potato Hash
- Salmon, Broccoli & Spinach
- Mahi Mahi with Basil Butter and Zucchini/Squash Medley
- Steak & Peppers
and more!!!
Each recipe is accompanied by a workout that specifically addresses a particular need of your body. Looking to wake up? We've got that for breakfast. Want to get a good workout before you go to sleep? We've got that. How about something to help you wind down and relieve stress? That's in there too
Tasty!
Some of the recipes in this book are new favorites in our house! We especially like the sweet potato hash that makes a filling but healthful breakfast. Each recipe comes with a different workout to do while it's cooking; I haven't had the nerve to do that yet but maybe when I'm more confident I'll combine the two. And Dean's comments are always fun to read.