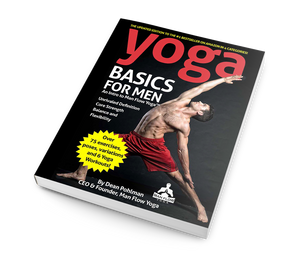 Yoga Basics for Men is the man's introduction to the physical workout of yoga. This is THE yoga guide for men who want an effective, full-body workout that improves overall endurance, core strength, body control, and flexibility, who aren't interested in changing their lifestyle, listening to an instructor telling them to open their mind, or connecting with the universe while they work out.

This eBook will help you accomplish your physical fitness goals, whether that's playing at the competitive level of sports, working out on a recreational level, or simply going throughout your day without physical pain. Improve your physical fitness, reduce your risk of injury, and feel better.

This eBook includes:

Physical Benefits - explains the physical benefits that you can expect to experience through incorporating Yoga Basics for Men, by Man Flow™ Yoga, into your workout routine.
Key Concepts - Learn the key concepts necessary to safely and effectively do yoga.
Exercise Guide - Learn the proper technique for over 75 exercises (poses) which will help you reap the physical benefits of yoga. This section also includes the target area, practical benefits, and tips for each exercise.
Workout Samples - 6 highly targeted, full-body workouts that will help you implement the pose knowledge from the previous section into yoga workouts.

About Man Flow Yoga:
Man Flow Yoga is the #1 brand of yoga for men on social media. You can learn more about Man Flow Yoga and more about the founder of Man Flow Yoga, Dean Pohlman, at www.manflowyoga.com.
Tolle Motivation...
... fuer Anfaenger. Ich habe gerade angefangen mich fuer Yoga zu interessieren und bin auf Man Flow Yoga aufmerksam geworden wegen der Werbung "nicht spirituell". Das Buch inspiriert und laesst einem Zeit, sich mit den Uebungen vertraut zu machen.