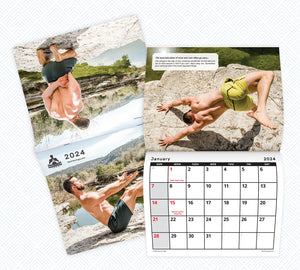 LIMTED QUANTITY!! Only 250 Calendars Available.
We're bringing the Man Flow Yoga calendars back for 2024!!

Looking for added motivation and accountability? Featuring professionally photographed photos and an inspirational quote from Dean for every month, this is sure to help you keep up your motivation to hit your fitness goals for 2024!
Last year these calendars nearly sold out in just one week. We have a total of 250 copies available now, but once they're gone, that's it.

Each month features a fresh photo and an inspirational quote, piece of wisdom, or thought to ponder, and are meant to help inspire you to be the best version of yourself, both on the mat in your Man Flow Yoga practice and in your regular life.
Specifics:

16 total pages (Front Cover, 2 Intro, 12 Months, Back Cover)

Saddle Stitch binding, 8.5" x 17"

A variety of yoga poses and Inspirational quotes from Dean and guests from the Better Man Podcast

Professional photos from Laura Morsman Photography
Note from Dean: I'd highly recommend using this calendar as a way to track your workouts and keep the "streak" unbroken. Put a big red "X" in the appropriate date every time you finish your yoga for the day, and that chain of X's will help motivate you to keep it going! Make sure to hang it wherever you practice yoga.