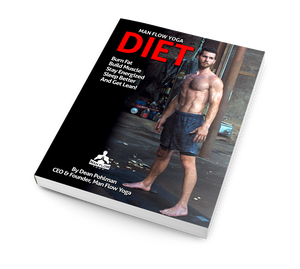 The Man Flow Diet is the ultimate tool to helping you create a diet that builds muscle, burns fat, and gets you LEAN. This book is basically a guide to my diet. It features eating tips, lists of foods that I personally eat on a regular basis, meal ideas, and more!!!
I'm offering years or research and personal testing experience for less than the cost of a sandwich, so that you can build muscle, burn fat, get LEAN and maintain energy throughout the day. The cost of this proven-effective diet is less than the majority of Americans spend on a single meal, and I'm willing to bet that this may be the best purchase that you will ever make in your life, considering the return on investment that you'll reap in terms of your health.
I created the Man Flow Diet to help you better understand my own personal eating habits in an easy-to-follow format, so that you can utilize food as fuel to build lean muscle and burn fat. The Man Flow Diet starts with a select few important concepts and guidelines that you should familiarize yourself with.
The food section features foods that I personally consume on a regular basis, categorized by: (1) protein, (2) low-carb vegetables, (3) high-carb vegetables, (4) legumes, (5) fat-rich foods, (6) nuts, (7) drinks, (8) snacks, and (9) cooking oils, condiments, additives, etc. Beyond these, there are the "Okay" and "Shadowland" lists.
The "Okay" list includes grains, simple carbs, and other foods that I consider to be acceptable for consumption, but not recommended for consumption multiple times throughout the day (unless your goal is weight gain). The "Shadowland" list includes those foods that you should avoid.
The following section features some of my favorite meals for breakfast, lunch, dinner, pre-workout, and post-workout. The final section of the guide teaches you to "cheat" your diet with two specific "cheat' methods that I've tested and found to be effective.
Here's how you should approach this guide to the Man Flow Diet:
Read the importance concepts and guidelines section.
Scan the food section for foods that you like. Pick a few that you know how to cook. (If you don't know how to cook, get the Man Flow Cookbook.)
Choose one or two variations of breakfast, lunch, dinner, snacks, pre-workout, and post-workout meals that you can commit to for the next four weeks. The simpler, the better.
Read the cheat section and determine which cheat method you'd like to utilize. (You don't get to do both.)